In the world of big data, managing and processing information is critical to success. It's important to have a solution that can handle the sheer volume, variety, and velocity of data. That's where Databricks Unity Catalog comes in.
Databricks Unity Catalog is a central repository for metadata that makes it easy to manage and understand your data. With Databricks Unity Catalog, you can discover, organize, and govern all of your data in one place.
What is Databricks Unity Catalog?
Databricks Unity Catalog is a data catalog that enables organizations to manage and track the use of their data assets. It helps you keep track of data lineage, data quality, and data usage, making it easier to understand the relationships between data sources and the insights that can be gained from them.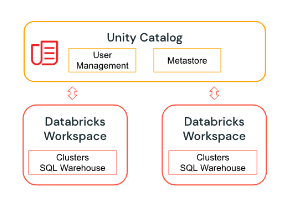 Unity Catalog Model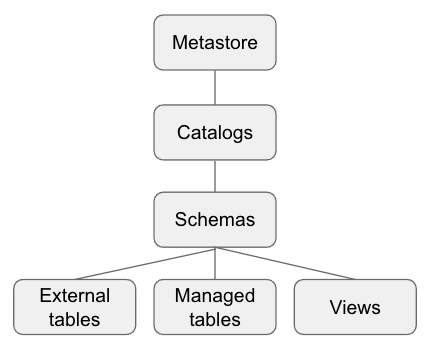 Unity Catalog has the following Primary data objects
Metastore: The top-level container for metadata. Each metastore exposes a three-level namespace (catalog.schema.table) that organizes your data.
Catalog: The first layer of the object hierarchy, used to organize your data assets.
Schema: Also known as databases, schemas are the second layer of the object hierarchy and contain tables and views.
Table: The lowest level in the object hierarchy, tables can be external (stored in external locations in your cloud storage of choice) or managed tables (stored in a storage container in your cloud storage that you create expressly for Databricks).
Key Features of Databricks Unity Catalog
Data Discovery: Databricks Unity Catalog makes it easy to discover data assets and understand the relationships between them. With its powerful search capabilities, you can quickly find the data you need and start using it in your analysis.
Data Lineage: Databricks Unity Catalog provides a complete picture of the lineage of your data, from the source to the end user. This helps you understand the data's journey and track any changes that occur along the way.
Data Quality: Databricks Unity Catalog enables you to monitor and assess the quality of your data, making it easier to identify and resolve any issues. This helps ensure that your data is trustworthy and accurate.
Data Governance: Databricks Unity Catalog provides a comprehensive approach to data governance, making it easy to manage, track, and enforce data policies. This helps you ensure that your data is being used appropriately and that you are meeting regulatory requirements.
Collaboration: Databricks Unity Catalog makes it easy for teams to collaborate on data projects. With its robust sharing capabilities, you can work with others to gain insights and make data-driven decisions.
Benefits of Using Databricks Unity Catalog
Improved Data Management: Databricks Unity Catalog provides a central repository for metadata, making it easy to manage and understand your data. With its powerful search capabilities, you can quickly find the data you need and start using it in your analysis.
Increased Data Trust: Databricks Unity Catalog helps you monitor and assess the quality of your data, making it easier to identify and resolve any issues. This helps ensure that your data is trustworthy and accurate.
Compliance with Regulations: Databricks Unity Catalog provides a comprehensive approach to data governance, making it easy to manage, track, and enforce data policies. This helps you ensure that you are meeting regulatory requirements.
Efficient Collaboration: Databricks Unity Catalog makes it easy for teams to collaborate on data projects. With its robust sharing capabilities, you can work with others to gain insights